This is one of my absolute favorite pies of all time. It is full of flavor and not overly sweet. I have been making it for years and everyone always loves it. I knew it would be a perfect dessert to make keto friendly and I was right. It is simple to make, holds well and will please anyone who likes pecan pie, and probably some folks who think they don't.
---
Perfect Pecan Pie
Yield: one 9" deep dish pie 8-12 slices
Preheat oven to 325F
Prepare in advance one 9", deep dish Pie Crust
Ingredients:
3 large eggs
2/3 cup brown sugar style, granulated sweetener I use this
1/2 teaspoon fine sea salt
1/3 cup fiber syrup style sweetener I use this
1/3 cup heavy cream
1/4 cup melted butter
2 teaspoons pure vanilla extract
2 cups toasted pecans *see note
Procedure:
Chop toasted pecans and set aside.
In a large mixing bowl beat together the eggs, the granulated sweetener and the salt until well combined, add syrup, cream, melted butter, and vanilla extract, and whisk or beat well to combine.
With a wooden spoon or spatula mix in the chopped nuts.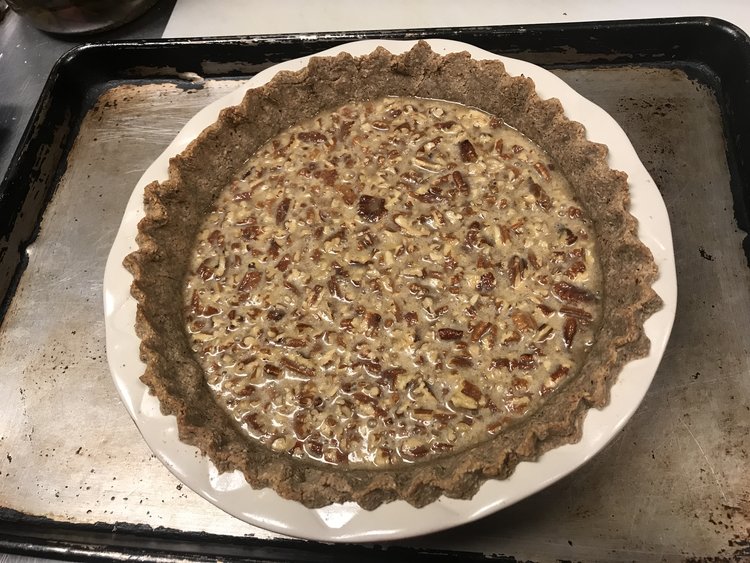 Pour into the prepared pie shell and bake at 325F 40-50 minutes, until the center of the pie is slightly puffed and it is set, but still has a slight jiggle.
Allow to cool completely before cutting. For best results refrigerate overnight after cooling.
To serve bring to room temperature, or to serve warm cut desired slices and warm gently in the oven at 250 degrees.
Taffiny Elrod 2017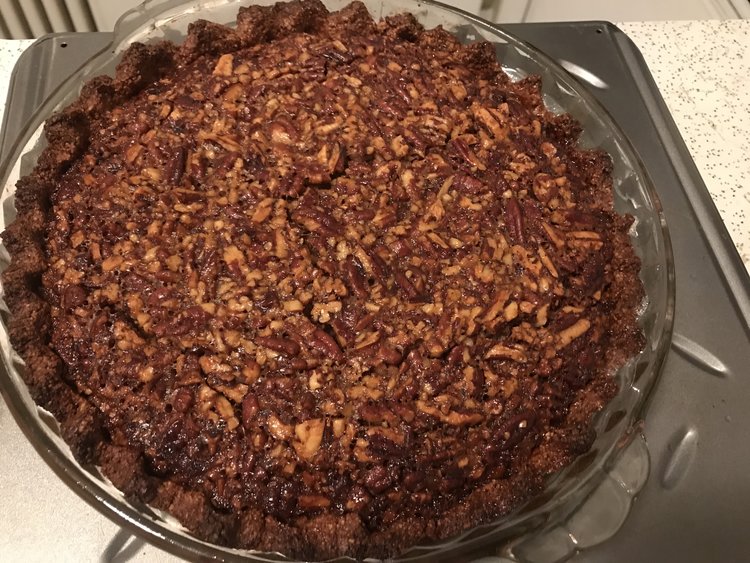 This pie is wonderful served warm with whipped cream or sugar free, vanilla ice cream.
Nutrition: based on eight servings, not including crust.
Per serving: calories 310, total carbohydrates 24g, fiber 10g, sugars 2.25g, fat 31g, protein 5.1g, sodium 150mg, erythritol 14g, net carbohydrates 5.4g
Perfect Pecan Pie Printable Recipe
---
Note: To toast pecans, place them in a single layer on an un-greased baking sheet. Bake in a 275 degree oven for approximately 10 minutes, stirring every few minutes. Pecans should smell fragrant and begin to look slightly oily and dark when they are toasted. If you over cook them they will become bitter and are no longer good to eat. They only need to be gently toasted because they will bake again in the pie.
When pecans are toasted remove them from the tray to stop the cooking and allow to cool enough to handle before chopping them. You can toast the pecans up to a week in advance. Cool them completely before placing them in an airtight container, and store in a cool dry place.
---
Taffiny Elrod 2017